Partners
The Tudi project joins the effords of 15 partners from Austria, Bulgaria, China, Italy, New Zealand, Czech Republic, Spain, United Kingdom, and Hungary.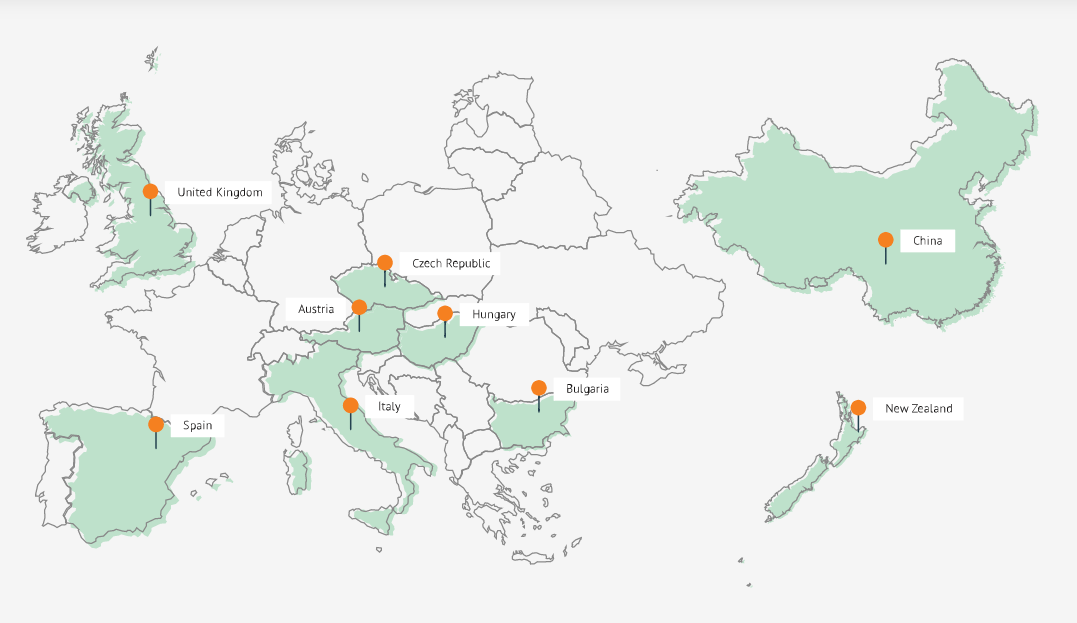 Austria
The University of Natural Resources and Life Sciences (BOKU), the Alma Mater Viridis, was founded in 1872 and perceives itself as a teaching and research center for renewable resources, which are necessary for human life. It is BOKU's objective to help make a considerable contribution to the conservation and protection of resources for future generations by providing diversity in its fields of study. Connecting natural sciences, engineering and economic sciences, we wish to increase knowledge of the ecologically and economically sustainable use of natural resources, to provide a harmoniously cultivated landscape.

An important feature of BOKU's research lies in its recognition of future problems and our efforts to provide and stimulate practical relevance, internationality and among disciplines. Interdisciplinary cooperation of scientists on an international level should help create comprehensive questions about the future of our planet and lead to innovative Within the Department for Water, Atmosphere and Environment (WAU) the Institute for Soil Physics and Rural Water Management (SoPhy) has a main expertise in soil erosion, soil protection and water management. SoPhy further uses and develops experimental and mathematical modelling approaches to advance the understanding of water fluxes and transport processes in the vadose zone. BOKUWAU- SoPhy has extensive experience in national and international research cooperation.
Bulgaria
New Bulgarian University was established on 18 September 1991 with a resolution by Bulgarian Parliament. The National Evaluation and Accreditation Agency, which reviews Bulgaria's higher education teaching, granted NBU maximum accreditation in three consecutive accreditations in 2001, 2006, 2012 and 2019. Since 2004, NBU is an accredited partner of the Open University UK.

The research activity at the New Bulgarian University is organized by the teaching communities of the departments and centers. Among the main priorities of NBU's research policy are the transformation of the university into an international research center and its integration into many international university networks, the development of project activities, the development of interdisciplinary research and the integration of research and teaching.
Pensoft Publishers is a SME specializing in academic, open access book and journal publishing, software development and web design, project dissemination and science communication. The company's project department is comprised of a motivated team of active scientists, project managers and science communicators offering services ranging from development of project logo and brand identity; website design, setup and maintenance; design, production and distribution of marketing collateral to organization of events; consultancy and development of communication strategies, plans for dissemination and exploitation and data management plans; press release writing and dissemination and liaison with journalists; social media set-up, management and design; production and distribution of final results packages (policy briefs, factsheets, infographics) and booklets; development of interactive final project online information resources and tools.

Since its foundation in 1994, Pensoft has published more than 1000 books and e-books. In 2014 the company launched a novel Open Access book (re-publishing platform, Advanced Books). Pensoft is well known among academics worldwide with its technologically advanced peer-reviewed Open Access journals. The company is actively developing new tools, workflows and methods for text- and data publishing, dissemination of scientific information and technologies for semantic enrichment of an articles' content.
China
BEIJING FORESTRY UNIVERSITY
The history of BFU can be dated back to 1902. Originally known as the Forestry Section of the Agriculture Department of the Imperial University of Peking (Jingshi Daxuetang, predecessor of Peking University). After decades of development, BFU has developed itself from a specialized college in forestry to its current status as a multidisciplinary university with leading positions among its counterparts in such disciplines as forestry, soil and water conservation, desertification control and prevention, landscape architecture.

With forestry in the leading position among its national counterparts, competitive advantages have taken shape that highlight the university's specialties in forest resources conservation, landscape architecture and human habitation environment, bio-materials and energies, ecology and environment, forest biology, as well as in humanities and social sciences.
Faculty of Geographical Science (FGS) in Beijing Normal University has a history of nearly 110 years. It dedicated to being at the forefront of teaching and learning and fostering cutting edge research and discovery as well as contributing to societal services in Geography. FGS enjoys a good reputation at home and abroad, and was ranked No.1 in the third-round national disciplinary assessment, and A+ in the fourth-round national disciplinary assessment.

FGS comprises 6 secondary institutions, including School of Geography, School of Natural Resources, Institute of Remote Sensing Science and Engineering, Institute of Land Surface Systems and Sustainable Development, Centre for Geo-Data and Analysis, as well as Academy of Disaster Reduction and Emergency Management. More than 200 faculty members and staff work in FGS at present, 95% of whom are qualified at doctoral levels. Many are also affiliated in the State Key Laboratory of Earth Surface Processes and Resource Ecology.
China Agricultural University (CAU) is one of the top ranked key national universities in China, specializing in agriculture, biology, engineering, veterinary medicine, economics, management, humanities and social science. It was established in 1995 by merging the Beijing Agricultural University and the Beijing Agricultural Engineering University. CAU is directly subordinated to the Ministry of Education of P.R.China and has been designated as part of the Project 985, to create world class universities in China, and the Project 211, to raise the research standards of universities.

Currently, it embraces three key national laboratories, four national research centers, 18 key ministerial laboratories, six ministerial research centers, plus a number of research centers and experimental stations. These open platforms provide CAU faculties with an excellent academic supports and expertise for performing cutting edges researches on life and environmental sciences. At present, the university has 17 colleges and 60 departments, and about 1600 professors with the majority teaching and researches oriented and tailored to meet the national needs for economic and social development.
Northwest A&F University (NWAFU) is a key national comprehensive university directly under the administration of the Ministry of Education. As one of the leading universities in China, NWAFU is supported by Ministry of Education's "Project 985" and "Project 211". The University originated from National Northwest Junior College of Agriculture and Forestry which was founded in 1934. During the past eight decades, more than 130,000 professional talents have stepped out of campus to work home and abroad, among whom 15 have become academicians of Chinese Academy of Sciences and Chinese.

Here are two institute/colleges, ISWC and CEM, in NWAFU involved in TUdi:

The Institute of soil and water conservation (ISWC), Chinese Academy of Sciences (CAS) & Ministry of Water Resources (MWR), was founded in 1956 and was the first scientific research institution established in the Northwest of China by CAS.

The State Key Laboratory of Soil Erosion and Dryland Farming on the Loess Plateau of ISWC are involved in TUdi. The laboratory focuses on solving key scientific and technological problems in soil erosion and dryland farming on the Loess Plateau and other similar areas in China.
Northwest University (NWU) is a key national comprehensive university directly under Shaanxi Province. As one of the leading universities in China, NWU is supported by Ministry of Education's "Project 211". The University can trace its origins back to Shaanxi Imperial College and Peking Imperial College founded in 1902.

NWU has 23 schools and departments, plus a graduate school. In addition to 86 undergraduate programs, NWU has been authorized to confer master' s degrees in 36 firsttier disciplines and 14 professional programs, as well as doctoral degrees in 24 first-tier disciplines. NWU houses 1 national key laboratory, 1 national research center for engineering & technology, 3 national base for international scientific & technological cooperation, 2 bases of Overseas Expertise Introduction Project for Discipline Innovation (111 Project), 1 jointly established training base of national key laboratory by Ministry of Education and Shaanxi Province, 7 national experimental teaching demonstration centers.
Italy
The Università degli Studi di Torino (UNITO) is one of the largest Italian Universities, with about 80.000 students, 3.900 employees (academic, administrative and technical staff), 1.800 post-graduate and post-doctoral research fellows. Research and training are performed in 27 Departments, encompassing all scientific disciplines.

According to ARWU international ranking, in 2018 UNITO ranks among the top 300 universities out of 1.200 and as the second university in Italy. The NTU Taiwan ranking for 2018 sets UNITO at the 171st place over the 500 top universities worldwide, and at the 6th place in Italy. UNITO is also 55th over 600+ worldwide and 2nd in Italy in the 2018 ranking by GreenMetrics, assessing the environmental and social sustainability of academic activities and infrastructures. With reference to the most recent national evaluation of the Italian university system (VQR 2011-2014), UNITO is ranked in the top three Italian universities in nine scientific areas out of 16.
New Zealand
Established in 1878 as the Southern Hemisphere's first dedicated agricultural college, Lincoln University exists to enhance lives and grow the future. Its purpose is to facilitate excellent research and education to grow the knowledge of our students and help shape a world that benefits from a greater understanding of the relationship between land, food and ecosystems.

The university provides an environment that enables students and researchers to grow into their potential, to become thought leaders who will grow the future and enhance and enrich the lives of others for generations to come. Lincoln has an environment that nurtures and facilitates growth in all areas of development: physical, emotional, intellectual, financial and societal. Lincoln University facilitates great learning and growth through applied research, cultivation of deep industry relationships, world-class modern learning environments and teaching, global connections and collaborations, and by ensuring that what we teach is relevant today and tomorrow.
Czech Republic
CVUT is the Czech oldest technical university (established in 1707), second largest university in the Czech Republic and it belongs to one of the top research institutions in the country. It consists of eight faculties and educates in total ca. 24000 students. Faculty of Civil Engineering, having more than 6000 students, belongs to largest faculties. As a big academic body, CVUT has broad economic and administrative support, attends in number of national and international research projects and has also very close relations with commercial sector.

The Department of Landscape Water Conservation currently employs 20 staff and 20 Ph.D. students. The research is oriented mainly to surface and subsurface water management, landscape and land-use stability. The particular fields of interest are soil science, groundwater hydraulics, drainage systems and structures, special engineering drainage measures, irrigation systems and structures, watershed protection and management, construction of ponds and special reservoirs, water management, and complex environmental problems related to landscape design and conservation, including the process of environmental impact assessment. GIS tools and advanced numerical models are extensively used for most of listed activities.
Spain
The Spanish National Research Council (CSIC) is the largest public institution dedicated to research in Spain and the seventh largest in the world with the mission to foster, coordinate, develop and promote scientific and technological research, of a multidisciplinary nature.

Two institutes from CSIC are involved in TUdi:

The Institute for Sustainable Agriculture (IAS) was established in 1992. IAS has the specific objective of studying the sustainability of agricultural Mediterranean systems, such as dryland and irrigated herbaceous crops and olive orchards, in order to harmonize food production with conservation of natural resources and environmental protection.

The objective of the Institute of Agricultural Sciences (ICA) is to provide the CSIC and the Spanish society with a center of excellence in agricultural and environmental research to address the challenges that modern and specialized European agriculture poses on the environment and the sustainability of natural resources. Its research lines focus on the growing demand of safe and high-quality agricultural products, improved municipal and agricultural waste management, and more sustainable and environmentally friendly agricultural practices.
AgriSat is an SME based in Albacete (Spain), which operates globally. It was founded in May 2014 as a spin-off of a series of EU and national projects. These projects have all been dedicated to the development and demonstration of the operational use of Earth observation (EO) and webGIS for water management and farm advisory. AgriSat's founding partners are an interdisciplinary group of scientists of the University of Castilla-La Mancha, ICT developers, agronomists, farm consultants, and farmers. As such, it draws on 20 years of experience in leading-edge technology, rigorously tested and applied as decision support tools in operational irrigation and farm management in a wide range of environments.

Some of its founding partners have been among the world-wide pioneers of the technology as well as of its integration in a holistic perspective and innovative participatory development and validation approaches. The mission of AgriSat is to make this knowledge and the corresponding easy-to-use tools widely available to the water and agriculture sectors and thus, to help farmers save water, energy, and inputs while maintaining or increasing yields and ultimately increase farm profitability in an overall context of sustainable agriculture.
United Kingdom
Established in 1964, The University of Lancaster is now ranked in the top ten UK researchintensive universities. It has 12000 students (∼30% postgraduate) and 2500 staff, and is the first UK University to open a campus in Africa (in Ghana). Benefiting from > £35m+ of new investment, the Lancaster Environment Centre (LEC) forms one of the largest groups of environmental researchers in Europe, allowing integrative studies of terrestrial, aquatic and atmospheric systems from molecular to global scales.

This 'environmental campus' provides extensive, state-of-the-art research laboratories (including excellent facilities for chemical, biochemical and biological analysis), 15 glasshouses and 10 walk-in controlled environment rooms. TUDI will also benefit from LEC's field sites that include a range of arable and grassland sites covering the main agricultural activities in North West of England. This includes access to long-term grassland/arable management experiments (rotations, maize, barley, Lolium sp., covercrops) at the Myerscough Agricultural College and crop diversity manipulation experiments located at Colt Park in the Yorkshire Dales National Park (Cole et al. 2019) that have been researched for over 25 years.
Hungary
The Centre for Agricultural Research (ATK), the largest agricultural research complex in Hungary, carries out basic and applied research and development in the field of agricultural sciences, participates in the dissemination of professional and scientific knowledge, and works in cooperation with organisations involved in agriculture, the food industry, rural development, environment protection and sustainable development, at both national and international levels.

Soils represent a considerable part of the natural resources of Hungary. Consequently, their rational utilization, conservation and the maintenance of their multipurpose functionality have particular significance for both the national economy and environment protection. ATK focuses among others also on research on the consequences of climate change for processes involved in the soil, water, material and energy cycles and the quality of surface waters, on relationship between crop yield, soil hydraulic properties and environmental factors.